The plan was simple but very hazardous. A group of British comandos had to reach the city of Tobruk (Lybia) and destroy enemy fuel reserves. Those brave men would pose as British prisioners of war while the SIG (Special Interrogation Group) would be disguised as German soldiers.
It was not the first time that allied forces tried something similar. But the idea of creating Special InterrogatIon Group arose when a British officer who spoke German fluent escaped from enemy's rear. This man could get a German uniform as part of his cover. His name was Herbert Buck and after escaping from enemy lines he proposed to create an special unit. After being authorized, he recruited German Jews, French and Czech soldiers.
Escorted by Y1 Long Range Desert Group Patrol, British comandos and SIG agents started a long journey from Kufra to Tobruk. They traveled a long journey through the desert and finally, the 13th september they reached Tobruk. The LRDG separated from the comandos. Lieutenant colonel Haselden and his brave men would be alone in Tobruk.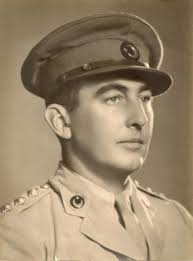 Lieutenant colonel John Haselden.
The commandos managed to infiltrate Tobruk. Haselden's men reached the bay of Mersa Umm Esc-Sciausc, defeated Italian defenders and they sent the signal of success.
Then, everything started going wrong. 11th Royal Marines Battalion could not reach the shore to the west of Tobruk. Their boats were not appropiate for a landing. British marines had wood boats made in Haifa which were towed with ropes by motor boats. Only a few men could reach the beach and British marines were captured and defeated.
British commandos before the raid of Tobruk.
On the other hand, men of Argyll&Sutherland and a machinegun platoon of Royal Northumbeland Fusiliers had to land at Mersa Umm Esc-Sciausc. They would join the commandos and destroy enemy fuel tanks. 18 motor torpedo boats had to transport Argyll&Sutherland soldiers and Royal Northumbeland Fusiliers, but only 2 boats reached the coast.
German and Italian batteries opened fire against British vessels. The Sikh, which was a tribal clase destroyer, was sunk by German guns. Soon, destroyer Zulu and HMS Coventry would be sunk by German planes.
Haselden's forces were discovered and surronded at Mersa Umm Esc-Sciausc bay. Surrounded, they fought bravely, but, finally, they were defeated. Lieutenant colonel Haselden died while he was helping his men to escape.
Unfortunately, Operation Agreement ended in a disaster. More than 700 British soldiers were killed, two destroyers, a cruiser and several motor torpedo boats were sunk.